Nugget Point, Purakaunui Falls, Cathedral Caves and McLean Falls offer a
spectacular escape from the busy city life to the captivating tranquility of the Catlins, named after a whaling captain, Edward Cattlin.
All of us at some point have experienced the wonder of nature. However, some places simply seem to define themselves as a whole other entity.
A lighthouse shines the way.
Nugget Point provides a 360-degree expansive naturalistic view, tracking your way up to Nugget Point Lighthouse.
Glimpses of wave-eroded rocks naturally evolved into the shape of golden nuggets, gleaming below as you gaze out from the viewing platform.
During the months of December-February, elephant seals stopover before continuing their journey. The fur seal colony has made themselves a semi-permanent fixture, squabbling amongst themselves, or sunbathing on the rocks.
A quick 10-minute walk to the bird hut allows you to peer out at the shy birds that nest in coastal vegetation.
A three tiered waterfall.
A cascading 20 meter, three tiered waterfall framed by native forest is yet another defying aspect to the Catlins at Purakaunui Falls.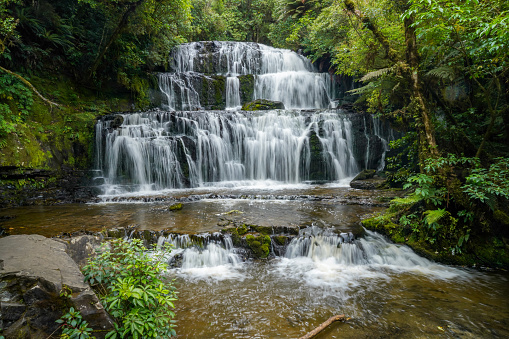 Purakaunui Fallls is featured on NZ postage stamps and calendars, and renowned for the stunning photo ops at several viewing platforms.
"Journey on to Purakaunui Falls; strolling through podocarp and beech forest. The clear, crisp waters cascade over three tiers of rocky outcrops; like a layer cake of movement.
Watch for that steep decline to the lower platform to view the fall framed by the looming trees, inching closer to the water's edge." (Journey in Little Paradise)
Sounds resonate, footsteps washing away when the tide comes in.
"Cathedral caves, two large openings, shut off from the tide. Mosey inside the opening, the vast expanse of sea-eroded stone, some parts standing thirty meters in sections. Varied colors and rock formations surround you as you step inside, as though you are entering into another world, another time." (Journey in Little Paradise)
Cathedral Caves are one of the most renowned locations in the Catlins. Coined Cathedral caves by Doctor T. M. Hocken due to their resemblance to European cathedrals. Every sound resonates throughout the caves, calling to the crashing waves once tide beacons forward once again.
A must-see waterfall.
Explore the expanse of Southland bush, where birds call, the faint sound of rushing water intensifies as you emerge from a clearing, greeted by the tumultuous cascade of McLean falls, surrounded by dark-green mossy rocks.
The Rarest Sea Lion in the World.
Linked by a coastal track, two bays provide a peaceful place to contemplate, crossing over white beaches, climbing sand dunes, taking a moment to watch waves cascade over one another in the blue/green ocean glistening under the sun.
Surat Bay and Cannibal Bay can be visited with a tour, or a leisurely trip to perhaps catch a glimpse and pictures of the sea lions meandering about.
Cannibal Bay earned its rather ominous name simply by a surveyor discovering human remains at this beach. But perhaps, even more famously Cannibal Bay is home to one of the rarest sea lions in the world – the Hooker Sea lion.
The Catlins offer another world free to explore.
Stretching between Balclutha and Invercargill, boasting of rugged nature, unmarred by the rest of the world moving around it.
High cliffs, expansive sandy beaches, cascading waterfalls, glistening lakes and bays, caves and blowholes, towering above the expanse a lighthouse beckons visitors.
The Catlins offer another chance to glimpse not only a marvel of nature, something that seems to defy even time itself. The Petrified Forest in Curio Bay creates a feeling of entering into another era.
"The Jurassic Park coming back to life, feeling as if a dinosaur may suddenly arise from the fossilized branches." (JILP)
Whatever you may be looking for, the Catlins offer a remarkable experience of nature at its finest.
For more NZ travel ideas, why not hop over to check out my travel e-book – Journey in Little Paradise.